STAND-ALONE PROCESS CONTROLLERS
Sun Systems process controllers are state of the art digital PID controllers offering precise control over variables such as temperature, pressure, and humidity. Standard features offer advanced programmability both from the front panel and through remote interfaces along with a wide range of operating and control functions to serve almost unlimited number of industrial and test applications. The controllers utilize the field proven PID control technique with user selectable coefficients to accurately control the process.
The controllers are equipped with safety features such as failsafe input, software selectable upper and lower process limits, open/short sensor detection, hardware watchdog, isolated sensors to allow direct monitoring of critical parameters in the process, etc. We offer standalone process controllers available in 19" rack mountable and 1/4 DIN size as well a 1/16 DIN temperature controller.
---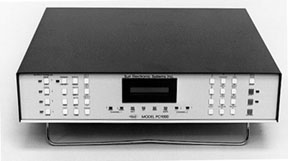 PC1000 Stand Alone Process Controller
(19" Rack Mountable)