TL01 - Temperature Limit Module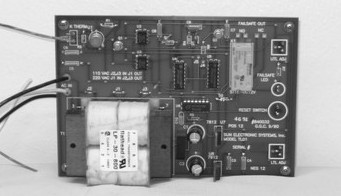 The TL01 limit module is an Over/Under Temperature Protection Module. This device may be used as a standalone unit or can be redundant to the primary controller's standard safety features. This electronic control device continously monitors the temperature of the desired area and when the temperature exceeds the upper or falls below the lower user adjustable set points, the module will interrupt power thereby disabling the heating and cooling processes.
The module uses a K thermcouple probe to monitor temperature, can be configured for 110VAC or 220VAC and has both a normally open and a normally closed relay output available for disabling power to heating and cooling processes.
TL01 INSTRUCTIONS