TEMPERATURE CHAMBER - EC0X MODEL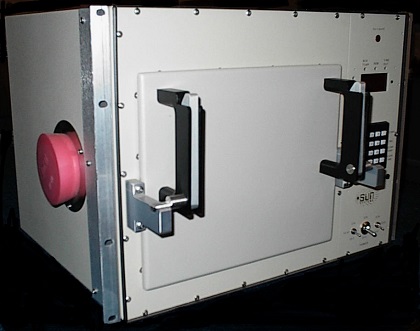 The EC0x series of temperature test chambers feature the TC01 controller. While not as flexible as the TC10 controller used in our EC1x model temperature chambers, the TC01 is still an extremely reliable digital PID controller capable of satisfying most temperature testing requirements. The controller can store up to 10 temperature set points and soak times, has 2 auxilliary outputs, 1 auxilliary input and an IEEE-488 (GPIB), RS232 remote interface for remote communication and temperature data logging.
The EC0x model temperature chamber is available in 4 sizes ranging from .37 ft3 to 3.0 ft3 of working volume. The chambers use vertical air flow with convection style heating and have a temperature range of -184°C to 314°C (using LN2) or -73°C to 314°C (using LCO2). The chambers can be equipped with options such as 1" to 4" circular ports, adjustable shelves, an electronic failsafe and pull off or hinged (with or without window) door. Chamber racks are available for the EC01, EC02 and EC03 models. The EC0A model is equipped with 19" rack ears (shown at left).
The summary table below can be used to compare the EC0x models.
If you have more complex testing then the EC0x models can provide, then our EC1x model temperature chambers might be the chamber to satisfy these requirements.
EC0X TEMPERATURE CHAMBER SUMMARY TABLE (pdf)
Temperature Chamber Model
EC0A (pdf)
EC01 (pdf)
EC02 (pdf)
EC03 (pdf)
Working Volume

.37 ft3
(0.010 m3)

.7 ft3
(0.020 m3)

2.2 ft3
(0.062 m3)

3.0 ft3
(0.085 m3)

Work space dimensions [inches(centimeters)]
10.0 (25.4) W
8.0 (20.3) H
8.0 (20.3) D
12.0 (30.5) W
9.75 (24.75) H
10.25 (26.0) D
20.0 (50.8) W
12.0 (30.5) H
16.0 (40.6) D
20.0 (50.8) W
12.0 (30.5) H
22.0 (40.6) D
Overall dimensions [inches(centimeters)]
17.5 (44.5) W
13.25 (33.7) H
20.0 (50.8) D
21.0 (53.3) W
16.0 (40.6) H
24.0 (61.0) D
30.0 (76.2) W
19.5 (49.5) H
30.0 (76.2) D
30.0 (76.2) W
19.5 (49.5) H
36.0 (91.4) D
Max Heat/Cool Rate
.5ºC/sec
(30ºC/min)
.5ºC/sec
(30ºC/min)
.25ºC/sec
(15ºC/min)
.25ºC/sec
(15ºC/min)
Air-Flow (CFM, Vertical)
60 ft3/min
60 ft3/min
150 ft3/min
300 ft3/min

Power Option 110VAC 50/60 Hz

YES
YES
YES
NO
Power Option 208/220VAC, 50/60Hz
Single Phase, 3/4 Wire
YES
YES
YES
YES

Power Option 240 VAC, 50 Hz
Single Phase, 3 Wire

YES
YES
YES
YES
Power Requirement
1600 Watts
1800 Watts
2200 Watts
3000 Watts
Weight; Net/Shipping
38/55 lbs
49/68 lbs
80/100 lbs
98/115 lbs
Expendable Gas Coolant Usage
LCO2 @ 0°C
1.8 lbs/hr
2 lbs/hr
3.5 lbs/hr
5 lbs/hr
Expendable Gas Coolant Usage
LCO2 @ -55°C
4 lbs/hr
6 lbs/hr
11 lbs/hr
15 lbs/hr
Expendable Gas Coolant Usage
LN2 @ 0°C
.7 lbs/hr
1 lbs/hr
2 lbs/hr
2.5 lbs/hr
Expendable Gas Coolant Usage
LN2 @ -55°C
2.2 lbs/hr
3 lbs/hr
5.5 lbs/hr
7.5 lbs/hr
CONTROLLER SECTION
(included in chamber cost)
MODEL TC01
(also available for retrofit)
Temperature Set Point Range
-199ºC to +314ºC in 0.1º Steps
Time at Temperature Range
0.1 to 1800 minutes or Continuous (Optionally, 0.1 to 1800 hours)
Temperature Ramping Rate Control
Not Controlled Locally
Programmable Set Temps and Times
10 Programmable Set Temperatures and Times
Absolute Error (not including probe error)
±0.4ºC
Long Term Stability (per month)
±0.25ºC
Temperature Resolution
0.1ºC
Line Voltage Sensitivity (105-125 VAC)
±0.2ºC
Programmable Temperature Loop Control
1 to 1800 Cycles of Programmable Set Temperatures and Set Times or Continuous
Temperature Control Technique
PID Algorithm / Pulse Width Modulated, Programmable from Remote Interfaces
Local Operation
16 Key Keyboard / 4 Digit Display
Remote Operation
Built-in IEEE-488 / RS232 Interfaces
Additional I/O Capability
IEEE-488 to RS232 Transparent Mode, 2 Auxiliary Outputs, 1 Auxiliary Input
Safety Features
Open/Short Probe Detection, Adjustable Over Temperature Thermostat, Software Upper Temperature Limit
Convenience Features
Heat and Cool Enable/Disable Switches