Blank Pull Off Door
Blank Hinged Door
Pull Off Window Door
Hinged Door With Window
Circular Ports
N2 gas purge w/needle valve
N2 gas purge w/o needle valve
Magnetic door sensor
Auto Line Purge
LN2 2 tank
LN2 Redundant
LCO2 3-tank
LCO2 2-tank
TEMPERATURE CHAMBER - EC11A-PM MODEL WITH SIDE WINDOW AND PORTS
The EC11A-PM is a customized EC11A with a rectangular, 6" (W) x 5" (H), piece of 1/4" thick Pyrex glass installed to allow viewing inside the chamber and (2) 1" circular ports for inserting wires, cables to connect to DUTs, user equipment etc. (2) 1" port silicone stoppers are supplied to help seal off the ports. The chamber has all the features of the EC1A-PM with the added capability of heating at up to 60 °C/min. A high speed 120 CFM blower ensures a minimal temperature gradient through out the chamber work space exists. The .37 ft3 chamber uses vertical air flow with convection style heating and has a temperature range of -184°C to 315°C (using LN2) and -73°C to 315°C (using LCO2). The EC11A-PM model temperature testing chamber uses the advanced and extremely flexible TC10 controller to provide features such as non-volatile memory to store user temperature profiles and parameters, an additional probe (for monitoring and control of product temperature), adjustable ramp rate, power down restart, analog and auxiliary I/O. Built in IEEE-488 (GPIB), RS232/RS422 remote interfaces are standard features on the EC11A-PM chamber. The chamber can function on it's own in an Automated Test Environment. Standalone operation is supported by a full function keyboard with a 2 line, 16 character LCD display. The electrically isolated chamber temperature and user temperature probe readings are normally displayed continuously and either probe may be used for control to ensure the proper temperature is achieved for the DUT. User programs are easily entered into the EC11A-PM chamber using a BASIC like command set programming language and stored in non-volatile memory along with user adjustable controller parameters. Probe calibration procedures are built in using a local menu driven format and parameters such as the PID coefficients are adjustable from the keyboard and remote interfaces. In addition, alarm function and sound level, BAUD rate, interrupt assignments and other communication port options are configurable from the front panel using an easy, menu driven format.
The EC11A-PM can also be controlled remotely from the RS232/422 port or the IEEE-488 bus interface. As well as being displayed on the front panel, temperature readings are accessible from the IEEE-488 or RS232/422 interfaces as are commands for setting chamber temperature, ramping rates, soak time at temperature, temperature deviation limits, temperature upper and lower limits. Local programs may be uploaded/downloaded to the controller and special communication commands allow for communication to the analog and auxiliary I/O ports.
The chamber supports several safety features including a mechanically or electronically adjustable over temperature limit protection module, upper and lower software temperature limits, processor watchdog timer as well as open and short probe detection.
The model EC11A-PM benchtop temperature cycling chamber is designed to be adaptable to your system application. If you would like a quote or have special requirements, please call Sun Electronic Systems for solutions.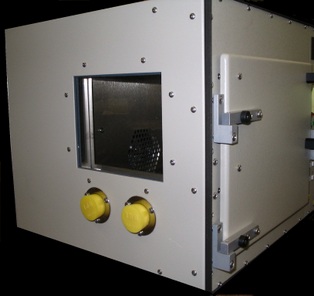 EC11A-PM chamber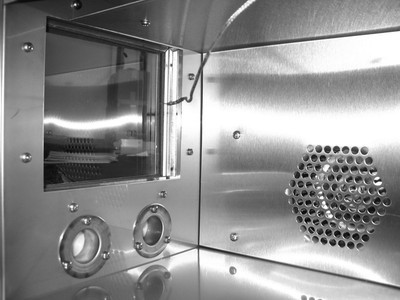 EC11A-PM Chamber Interior View
EC11A-PM Temperature Chamber Specifications
Power: 4200 WATTS
Voltage (frequency): 220 VAC (50/60Hz)
Heat rate: 60C/min, Cool rate: 30C/min
Air Flow: 120 CFM
Workspace Dimensions: 10"(W) x 8"(H) x 8"(D)
Overall Dimensions: 17.5"(W) x 13.25"(H) x 20"(D)
Volume: .37 cubic feet
Weight: 38 lbs.